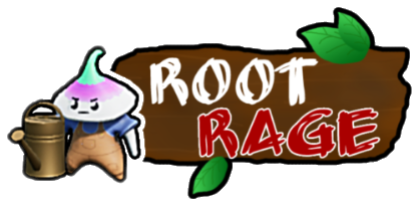 Root Rage
A downloadable game for Windows
About The Game
Assume the role of Lil Veg! A homesteader that is trying to put down roots in a humble forest. In time their BugBeGone home base will flower and spread a protective energy around the area, but until it does, they have to fend off nasty invaders.
The Karrott is an ant like monster that tries to get close and slash at you, when defeated they'll drops seeds for the Carrot Railgun.
The Tater Terror is an otherworldly potato being that spits potato projectiles at you from a distance, and when defeated drops potato seeds that grow into Tater Grenades.
When an enemy dies they plant seeds that grow over time into your weapons. The longer and larger the plant grows the more ammo you can harvest but wait too long and it wilts and dies.
If you can keep LilVeg alive long enough to survive the time limit, their little plot of land is secured for homesteading! But if you are consumed by the forest foes, Lil Veg will be returned to the roots...

Controls
Game requires an Xbox controller plugged in
Left-Stick - Move
Right-Stick - Aim
Left-Trigger - Harvest

Move to the plant and harvest. Lil Veg will pull it from the ground

Right-Trigger - Shoot / Water
This game was made for Global Game Jam 2023 and has seen no further development since. It may have bugs or crashes, and should not be viewed as a final product. Just a fun experiment! Team members included members of SkyPyre as well as Ben Brinkman.
Install instructions
Once downloaded, just unzip it and run the .EXE file in the folder and play!